VIR OktoberFast – This Weekend!
We can't wait to visit VIR's wonderful 3.27 mile Full Course for OktoberFast this weekend! Participant instructions, tentative schedules, and the entry list so far have all been posted on the event page. A few entries are still available in HPDE2, HPDE 3, TT, and all race groups/classes – you may sign up at the track. Hyperdrive and HPDE1 are full and waitlisting, although spots may become available soon. We have a few team spots left for the kart enduro on Friday evening as well. Please join us for a great fun three-day weekend and the final roadracing event of the season! Also don't miss the first annual VIR BrewFest on Saturday: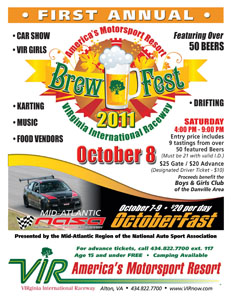 UPDATE: NASA participants get into the BrewFest for half price ($12.50) – or for free by visiting VBD Graphics in the paddock. Details will be announced at the drivers meeting on Saturday morning!