Australian Pursuit Races at Summit and VIR!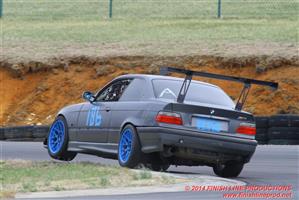 The first ever Australian Pursuit was hosted by NASA Mid Atlantic at VIR in March. It was very well received so we have chosen to keep it on the schedule for our April 26-27 Summit Point event as well as the remainder of the 2014 season except for HyperFest.
The Australian Pursuit is a race that is run at the end of the day on the Saturday of each NASA Mid Atlantic weekend. Drivers registered for the Sprint Races who also register for the Australian Pursuit enjoy an extra 20-25 minute race in a unique format for only $25*.
It is important to note that the Australian Pursuit race is run IN ADDITION to the normal NASA Sprint races. More racing. More Fun!!!
The Australian Pursuit is essentially a handicap race that allows each car to compete for the overall win regardless of the traditional NASA Classing system. It is possible that a Spec Miata could be the overall winner of this race even while competing against an American Iron car. Everyone starts from the pits. Grid is prepared by taking the sprint race qualifying times and inverting the field. The slowest car is released first. The fastest car is released last. When each car is released is based upon the number of laps planned for the Australian Pursuit and the difference in qualifying times of the participating cars. For example: if a Spec Miata qualifies for its regular sprint race at 1:30 seconds and a Super Unlimited Ferrari qualifies at a 1:20 there is a 10 second difference. In a 12 lap Australian Pursuit race the Ferrari would start 120 seconds after the Spec Miata. All other cars would be released in a similar fashion from the pits. Theoretically, all cars should be on the lead lap at the end of the race, each with a shot at the overall win.
* Entry fee for the Australian Pursuit race is only $25 if a driver pre-registers and $40 for at-track registration. At track registrations must be done by 2:30pm on the day of the race. Only drivers registered for the traditional sprint races may run the Australian Pursuit race. For any questions please contact Chris Cobetto at chris@nasaracing.net or call 804-883-7669