RIP Don Aston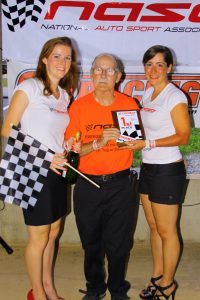 On February 12, 2018, the NASA Mid Atlantic Family suffered a loss.  Don Aston passed away peacefully at the side of his loving wife Marilyn.  
To say we all love cars is certainly something that we would all understand, but the reality is that you can't love metal, rubber, and plastic.  The car is just a car. What we really love is what the car does for us and to us.  While the car was at the center of Don's passion, what he loved was the feeling it gave him from behind the wheel of his Dodge Neons. We can all understand that concept, but where most of us focus is on our own car and our own situation. Don did not solely focus there. He was a shepherd for those like us.  Don taught auto shop at his local technical school.   He encouraged and showed the way to countless students.  He brought the students to the track.   He excited them by allowing them to work on his race car.   When he wasn't teaching, he was taking care of his fellow racers and driving students by heading up the Emergency Services crew first for the SCCA and then for NASA Mid Atlantic through the 2015. 
We met Don and his wife Marilyn in 1999 recruiting staff for the 2000 season.  We had acquired track dates at the soon to be re-opened Virginia International Raceway but knew that Summit Point was a critical track to have on the schedule.   There was absolutely no reason that the owner of Summit Point should give us a track date, but Don and Marilyn believed in the NASA concept. They went to bat for us with Bill Scott, the owner of Summit Point, and as a result, that gave us 6 dates for the 2000 season.  NASA's relationship with Summit Point started there, and it was all because of the Astons.
In the beginning we were making stuff up as we went along.   Many of the concepts and systems NASA put in were created from a driver's perspective and later adopted by other organizations. Don's open mindedness and creativity were at the center of many of those ideas.  He not only helped NASA but he helped the sport.
In 2000, not many knew what NASA was outside of California.  The NASA Mid- Atlantic Region (called NASA Virginia Region at the time) hoped to be an anchor on the east coast. Don's presence established legitimacy of the region to fellow racers, and officials within the road racing community.   Don was a calm, seasoned voice in those early days and he helped to recruit a staff that made the 2000 season successful.  The 2000 season made the National Auto Sport Association a truly national organization because it legitimized and solidified NASA on the east coast. It should never be understated what role Don Aston had in NASA's overall progress.
Don was a friend.  He was kind, funny, thoughtful, hard-working, generous, creative and patient.   He will be sorely missed. God's speed to our brother-in-speed.
Services for Don will be on Saturday March 3 at 11:30
Church of Jesus Christ Latter Day Saints
110 Goodhand Creek Rd
Chester, MD 21619